THE NAVAJO NATION
dr. buu nygren | PRESIDENT                          richelle montoya| VICE PRESIDENT
Crownpoint Chapter
Tiis` tsooz` nideeshgiizh (Narrow Trees In The Canyon)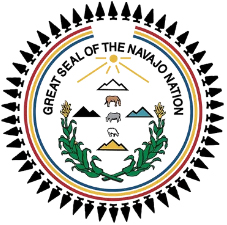 The staff at Crownpoint Chapter welcomes you to our official website. The Crownpoint Chapter is currently working on its Chapter Certification in compliance with the Local Governance Act.  The Crownpoint Chapter Community Land-use Planning Committee was certified in December 30, 2004.  This Chapter is working hard in helping develop this community thru economic development and is currently progressing in local governance.
The history of Crownpoint goes back to the first inhabitants when the Anasazi lived here in the local area.  It was here they farmed and hunted as well as engaged in social activities.  The Dine also came along side the Ansazi and lived in the local area. They called this area T'iis ts'ooz nideeshgiizh because of the greasewood and cottonwood which grew in the back canyons.  In more contemporary times, a man from Idaho came and became the first Superintendent for the new Easten Navajo Agency.  Samuel F. Stacher established the new government agency and the new Pueblo Bonito Boarding School in 1910.  Later a trading post, a church, and other residential housing were built.  All thru this time, the Dine have maintained their culture and heritage, including continued their cultural native practices, which still plays an important and powerful role in their day-to-day life.
The Chapter was established in 1965. The Crownpoint community is located in the Northwestern region of New Mexico and in the mid-southern part of the "Checkerboard" area.  It is located approximately 55 miles northeast of Gallup, New Mexico.  New Mexico State Vietnam Veterans Memorial Highway 371 goes through Crownpoint, connecting with Farmington (82 miles to the north) and with Thoreau, New Mexico (24 miles to the south). The completed highway has added traffic volume by 125% since 1980.  This highway is also a part of the Scenic Byway road which relates to culturally and historically scenic areas.
The Crownpoint Chapter conducts monthly meetings to keep residents informed of local developments.  It is here that the residents have a forum to express their opinions to their Navajo Nation Council Delegate and the Chapter officials on matters concerning their Chapter or Community.
We urge you to come back and visit us again very soon!
WOOD PERMITS
SOLD HERE
Wood Hauling Permit $1(60+ yrs old No Charge)
1 month/ 2 loads
 Resale Permit $5
Expires 5 days from issue date
 Crownpoint Area Public Notary
Listing
Navajo Housing Authority                            Navajo Health
M. Brown                                                        Cam 

505-786-4000                                                                   Location Old PD
Angie Hannah,                                                Navajo Tech Uni. 
West Mesa #35                                                HR Receptionist
505-862-3418                                                   505-387-7401
Election Office                                                F. Joe
C. Pablo                                                           Standing Rock   
Location Old PD
ALL NUMBERS LISTED, HAVE DIFFERENT COST or NO COST
    CROWNPOINT CHAPTER OFFICIALS 2021-2024
Rita M. Capitan | PRESIDENT
rcapitan.naataanii.org
Leonard Perry | VICE PRESIDENT
lperry@naataanii.org
Helen Murphy | SECRETARY / TREASURER
helen.murphy@naataanii.org
Herbert Enrico | LANDBOARD
herbertenrico78@gmail.com
Danny Simpson | COUNCIL DELEGATE
danny.simpson@navajo-nsn.gov
Taylor Pinto | LEGISLATIVE DISTRICT ASSISTANT
taylor.pinto@navajo-nsn.gov
Honorable Danny Simpson
25th Navajo Nation Council
The Navajo Nation Legislative Branch
Post Office Box 3390
Window Rock Arizona, AZ 86515
(928) 607-0677
Administration
Aaron Edsitty | Community Services Coordinator
crownpoint@navajochapters.org
Felicia A. Singer | Accounts Maintenance Specialist
fjohn@nnchapters.org
Sharlinda Martin | Office Aide/Custodian
Westley Dawes | Waste Disposal Attendant
VACANT (POSITION OPEN) | Indian Market Attendant
AJ Murphy | Heavy Equipment Operator
Ry Begay | Office Assistant
        office hours
FRONT OFFICE LOBBY IS NOW OPEN
HCOC 2022-08 EFFECTIVE SEPT. 6, 2022
Monday:  8:00 am to 12:00 | 1:00pm to 5:00 pm
Tuesday:  8:00 am to 12:00 | 1:00pm to 5:00 pm
Wednesday:  8:00 am to 12:00 | 1:00pm to 5:00 pm
Thursday:  8:00 am to 12:00 | 1:00pm to 5:00 pm
Friday:  8:00 am to 12:00 | 1:00pm to 5:00 pm
TTS hours
TRASH TRANSFER STATION
Tuesday:  8:30AM to 12:00/ 1:00 PM to 4:45 PM 
Thursday:  8:30 AM to 12:00/ 1:00 PM to 4: 45PM
Sunday:  CLOSED-EFFECTIVE APRIL 12, 2022 
VETERANS ORGANIZATION COMMITTEE
Lou Antone
| Commander | 
Willie Freeland
| Vice-Commander | 
Francis Morris
| Secretary | 
Veterans Main Ofc:
505-786-2030
community land use planning committee
Leonard Perry | PRESIDENT | 
Vacant
| VICE PRESIDENT | 
Rosemary Silversmith | SECRETARY | 
Rita Capitan
| MEMBER | 
Alexis Ellsworth
| MEMBER | 

Sr. center council members
 | PRESIDENT | 
 | VICE PRESIDENT | 
 | SECRETARY | 
 | MEMBER | 
 | MEMBER |  

 | SUPERVISOR
 | COOK
 | DRIVER
 DALTCS:
505-786-2042
CENTER:
505-786-2360
COMM. HEALTH
REPRESENTATIVE
Vangie Tully | Senior CHW
vtully@navajo-nsn.gov
 CHR:
505-786-2196
V.TULLY:
505-786-2415