The Crownpoint Chapter of the Navajo Nation will be closed on
President's Day February 20th, 2023
Memorial Day May 29th, 2023
Navajo Nation Memorial Day June 1st, 2023
Planning Meeting:  May 2, 2023 at 12:00 P.M.
Teleconference: 
470-705-3692
PIN#372-142-303
GOOGLE MEET CODE:
xiv-myey-sfy
Regular Meeting:  May 16, 2023 at 12:00 P.M.
Teleconference: 
470-705-3692
PIN#372-142-303
GOOGLE MEET CODE:
xiv-myey-sfy
Eastern Agency Council Meeting:  Jun 3 Location TBA Teleconf email:
enacouncil@navajochapters.org
CLUPC Meeting
FRIDAY-May 19, 2023 AT 10AM 
Join with Google Meet:
Or Join by phone: 314-896-4439
PIN# 699 206 075
contact CLUPC President Leonard Perry
CLUPC DATES WILL BE THE 3rd
FRIDAY
OF EACH MONTH AT 10AM PER
Resolution: CPC-21-06-03: SUPPORT AND APPROVE A PLAN OF OPERATION CHANGE UNDER THE CROWNPOINT COMMUNITY LAND USE PLANNING COMMITTEE (CLUPC) REGARDING THE MEETING DATE AND TIME CHANGE, TO THE 4TH FRIDAY OF EACH MONTH AT 10:00 A.M. By Leonard Perry
Motion by: Herbert Enrico Second by: Rosemary Silversmith Vote: 11-0-01
 CLUPC 2 POSITION VACANCIES
*Registered Voter
*Knowledge in Land Status
*Community Planning
*Interest in improving Community
Submit Letter of Interest
to Crownpoint Chapter
email:  crownpoint@navajochapters.org
505-786-2130
__________
SUMMER 2023 Scholarship Apps WILL OPEN:  May 1st, 2023, Deadline due by May  23rd, 2023  by 3:00 P.M. (awards depend on the availability of funds)  ATTEND MTG In-Person VIA TELECONFERENCE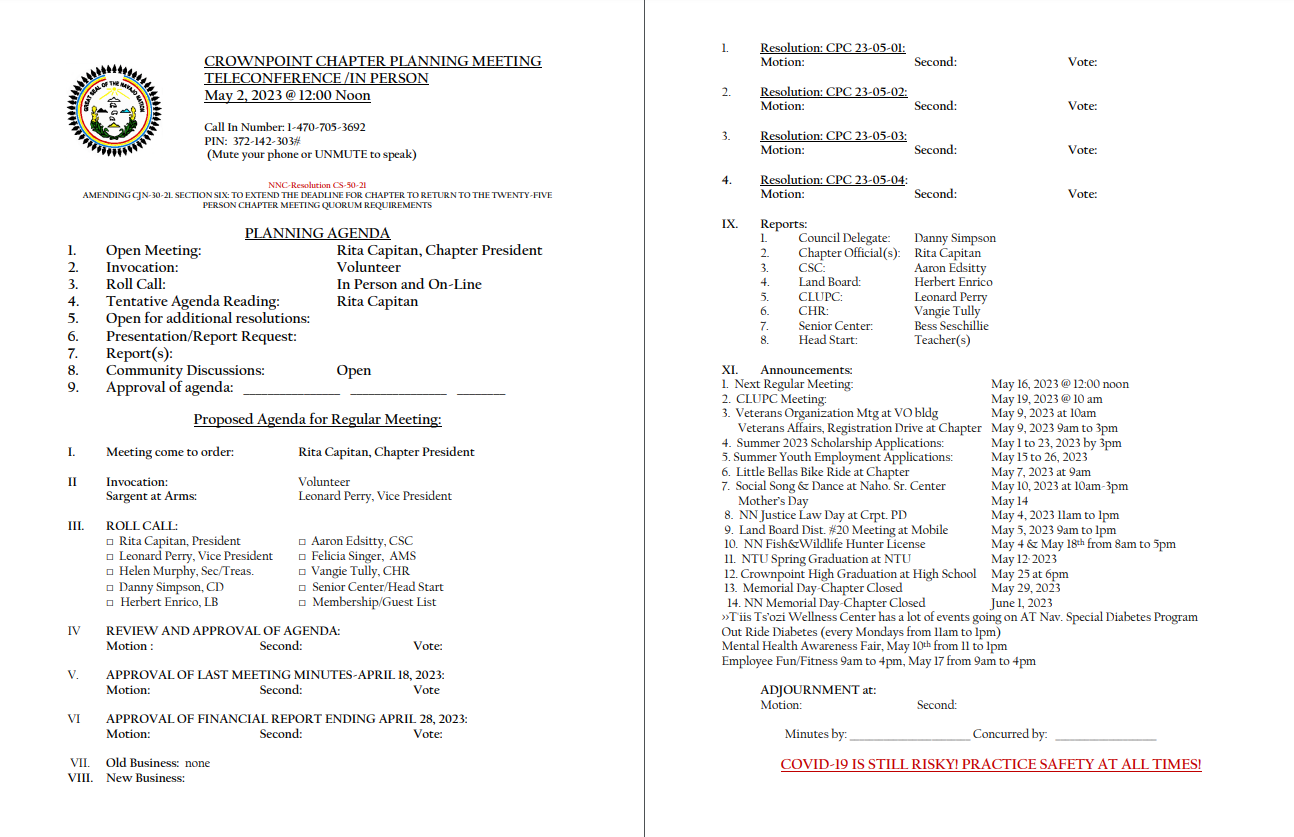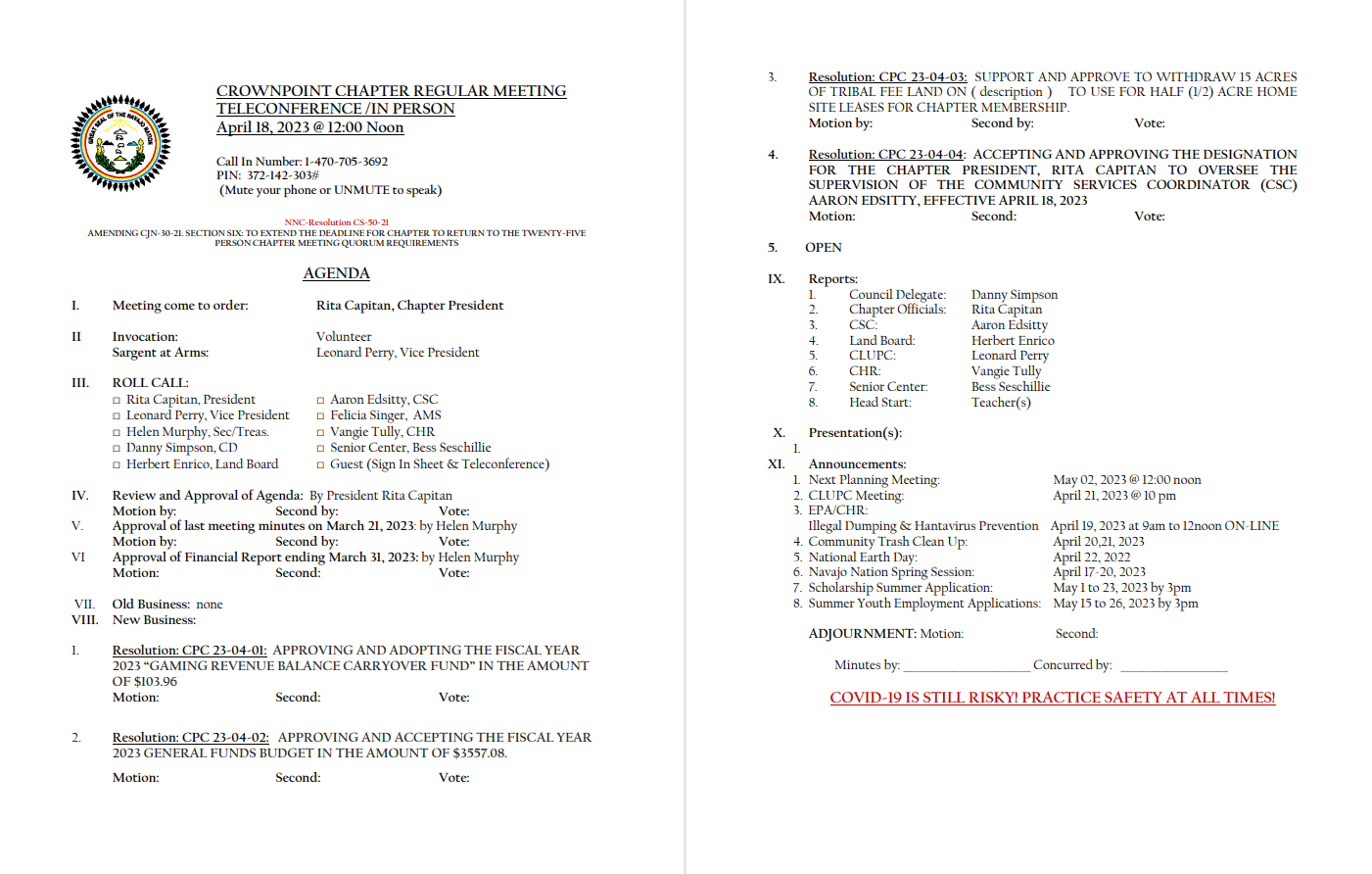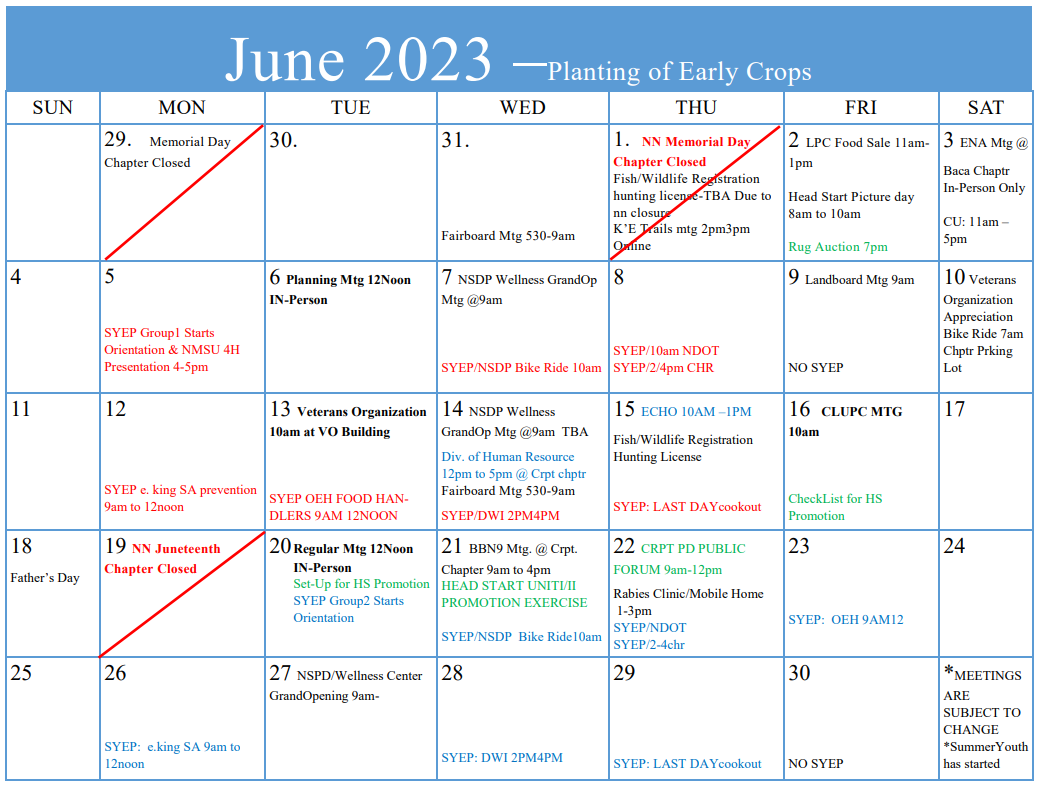 &CHAPTER HIGHER EDUCATION ASSISTANCE (Scholarship) APPLICATIONS can be picked up DECEMBER 1st for Spring, MAY 1st for Summer and JULY 1st for Fall Semesters… Completed applications with the required documents are DUE on the 4th TUESDAY of the same month BY 3:OO PM. NO EXCEPTIONS… Please read the policy, Frequently asked questions are all in the policies. 99% of the applicants do not attempt to read the policies.
__________
Rug Auction Dates 
May 5, 2023
DOOR OPENS AT 4PM
AUCTION BEGINS 7PM  Contact
Marcella Woods-Hale
505-362-8502
Rita Capitan
505-786-5341
__________
EARTH CLEAN UP
2-DAY
COMMUNITY-WIDE
APRIL 20-21, 2023
                 __________
Youth Employment Program
APPLICATIONS WILL BE AVAILABLE
May 15, 2023 Opens
APPLICATION CLOSES
May 26, 2023 at 3:00 PM
*Hiring process will begin in June 2023
————————
Public Employment Program
APPLICATIONS WILL BE AVAILABLE
FOR:
*PEP Laborers and Heavy Equipment Operator
*Different closing dates
call Chapter for more info
2023 CHAPTER PLANNING & regular CHAPTER MEETINGS
(Meeting dates subject to change)
PLANNING
May 2 12PM
Jun 6, 12PM
July  TBA, 12PM
Aug 1, 12PM
REGULAR
May 16 12PM
Jun 20, 12PM
Jul 18, 12 PM
Aug 15, 12AM
CLUPC
May 19,
10 AM
Jun16, 10AM
July 21, 10AM
Aug 18, 10AM
LANDBOARD
May 5
TBA
TBA
TBA
VETERANS
May 9
June 13, 10am
TBA
TBA

ECHO 60yrs+

Elderly

May 18 10AM

Jun 15, 10AM

TBA 10AM
TBA